Bridal show winners hold special day
Heather Hoprich and Scott Blessard won a $35,000 dream wedding with lots of extras that made their day special.
byRALPH BERRIER JR. | 981-3338. View original article here: Roanoke.com
Monday, April 15, 2013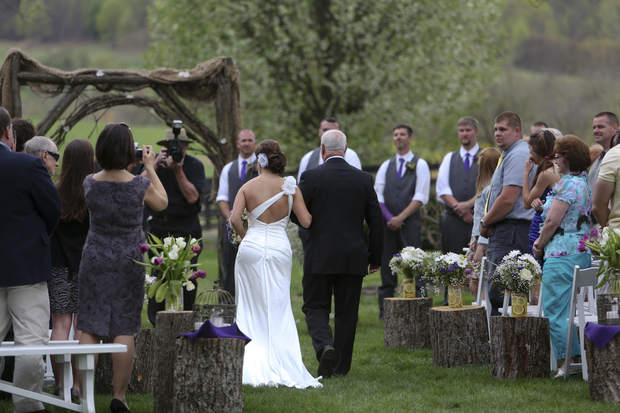 BOONES MILL — The bride wore cowboy boots as she walked down the grassy aisle. So did the rest of the wedding party and some of the guests.
The flower girl fired soap bubbles from a plastic bubble shooter instead of tossing petals.
The newlyweds celebrated their vows by firing a potato cannon at the end of the ceremony.
It's funny what you will see at a $35,000 wedding.
Heather Hoprich and Scott Blessard entered the realm of matrimonial bliss with a prize wedding they won last year at a bridal show in Roanoke. The Botetourt County couple won the first-ever "Dream Wedding Giveaway" at the Greater Virginia Bridal Show at the Roanoke Civic Center in January 2012. Not only was the prize a great wedding present, but it also was a great engagement gift.
"We had just got engaged on Jan. 13," Blessard said. "Then we won the prize on Jan. 22. We didn't even know there was a contest."
Hoprich's mother, Kathy Hoprich, had won four tickets to the bridal show from country music radio station Star Country (94.5 FM). (Blessard, being the gentleman, paid for his own ticket and let his wife-to-be, mom and future mother- and sister-in-law use the freebies.)
The couple won a drawing out of more than 300 entrants from the show. The grand prize included a complete wedding package of a venue, flowers, music, food, drinks, photography and other nuptial niceties.
Most of the wedding services were provided for free by the vendors. Sundara, the outdoor venue near Boones Mill owned by Patty and Tom Trostle, offered a splendid setting amid the flowering cherry trees and ancient tulip poplars and Southern magnolias.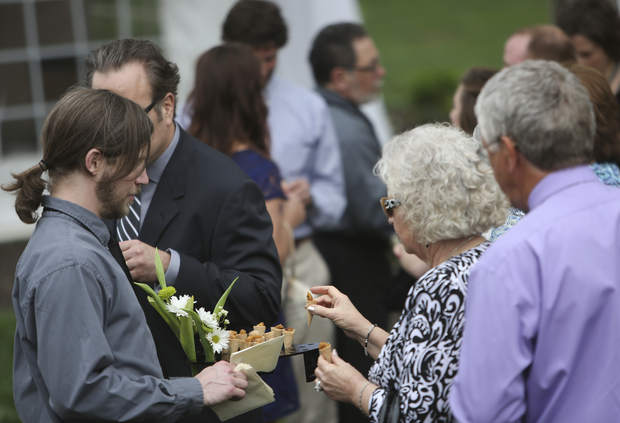 Carolyn McMillan of McMillan and Wife Photography and Flowers directed the wedding and photographed it with her husband, Jerry. Carolyn was the person who came up with the dream wedding prize and pitched it to Angeline Frame , publisher of Virginia Bride Magazine . The Blessards' wedding will be featured in an upcoming edition of the magazine.
Other vendors offering their services included Blue Ridge Catering; Music, Music and More Music; Prestige Limousine Service and Casey's Cakes — although the Blessards' three-tiered cake was made by Scott's mom, Lisa.
Hoprich's wedding dress, a sleeveless, one-strap gown made by Ella Bridal and provided by Becky's Bridal of Buena Vista, was part of the package, as is a honeymoon to Cancun, Mexico.
"I would never have dreamed of something like this," said Hoprich, who will add Blessard to her own surname. "We could never have afforded to do anything like this by ourselves."
Still, the couple paid for a few extras themselves.
"You'd be surprised how fast that goes," Blessard said of the thousands of dollars worth of free stuff.
To be sure, the package did not include cowboy boots, Mason jar wine glasses and the spud-launcher — a gas-powered tube that fired a 'tater toward Cahas Mountain. Those were the most personal touches for a couple who met on a ballfield.
Hoprich, 32, a sales representative for Carter Surgical , and Blessard, 28, who works for Altec Industries in Daleville, met playing on a co-ed softball team in Botetourt County. He was pitching batting practice and she kept scorching hits up the middle. Nothing says love like ducking a line drive aimed for your noggin.
They were together a little more than a year before getting engaged and winning the contest. Then, the pressure was on to stay together for another 15 months until the dream wedding.
Actually, there was no pressure.
"We had that covered," Hoprich said.
"We were meant to be," Blessard added.
The couple will reside near Fincastle.